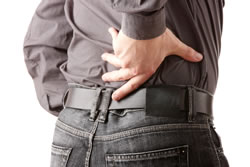 Your workers' compensation claim is not unusual. Since the initiation of the program in Germany in the 1800s, injured workers were able to be compensated for injuries on the job, especially those that led to disability.
In one study at Johns Hopkins University, researchers evaluated the types of injuries covered by Workers' Compensation in the state of Maryland. Forty-five different types of injuries were reported in a ten-year period. Although the research wasn't conducted in New York, the findings still illuminate the costs and consequences of some of the most common work injuries.
What type of injury do you think was the most common workers' compensation case? If you guessed back and knee injuries, you are 100% correct.
What type of injury do you think was the most expensive to the Workers' Compensation Program? It was heart attacks and occupational diseases, such as ones where workers are exposed to real hazards (chemical, environmental) on the job.
The researchers also found that shoulder injuries should also be listed in the most expensive types of single injuries for workers' compensation. They concluded that if they could somehow prevent and better manage the three most common types of injuries on the job, it would significantly help the program.
They may have been missing information, though, because chiropractic care is very effective for back injuries, knee injuries, and shoulder injuries. Any part of the body that is bound by muscles, tendons and ligaments and part of the skeleton can become misaligned. And when it is misaligned, who is there better than a chiropractor that knows how to adjust joints and re-align the body with expertise, like your Depew chiropractor Dr. Palmer?
Adjusting the spine with a chiropractic adjustment also ensures that the spark of neural transmission is restored to the body part that has been injured. If you live in Depew, Cheektowaga, Lancaster, Elma, or West Seneca, talk to Dr. Palmer about what's possible with healing of your workers' compensation case today.
Reference
Mroz, T.M., et al. Frequency and Cost of Claims by Injury Type From A State Workers' Compensation Fund From 1998 Through 2008. Arch Phys Med Rehabil 2014 Jan 28.