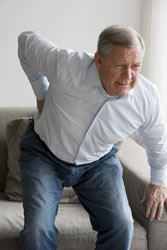 Back pain affects nearly everyone at some point in their lives, so it's easy to write it off as something that will simply get better on its own. While this may be the case for some minor, acute back injuries, the reality is that most people who injure their backs once end up being more susceptible to back injuries later in life. To break this cycle of recurring pain, you're going to need some help identifying the cause of your back pain, and deciphering how to prevent it from resurfacing in the future.
That's where your Lancaster chiropractor Dr. Palmer comes in. Although you can take pain medications or use steroid to try to dull the pain, the effects of the medication will eventually wear off and you'll be back at square one. Unfortunately surgery isn't always the best option either since up to 40% of patients suffer from what's known as "failed back surgery syndrome" which occurs when patients continue to have back pain or recurring disc herniation even after surgery. For many people, surgery may not be an option simply because of its costs, risks, and the time needed to take off work while you recover. With chiropractic, many patients are able to continue working throughout the treatment because of its non-invasive nature.
A number of medical studies have confirmed what Dr. Palmer has seen in his Lancaster/Depew office for years: Chiropractic is effective for a broad range of back conditions including bulging/herniated discs, spinal degeneration, arthritis, spinal stenosis, sciatica, pregnancy-related causes, auto injuries, and sports injuries.
Using non-invasive, drug-free treatments, Dr. Palmer can help you return to your normal life as quickly and efficiently as possible. So if you're struggling with back pain in the Lancaster or Depew, NY area, remember you don't have to needlessly suffer with back pain forever. Make an appointment with Buffalo Chiropractic to start feeling better now.