Each year, more than 3 million Americans are injured at work. Work injuries keep people from doing their jobs, but they also keep many workers from leisure and family activities. Many who have been hurt on-the-job find multiple aspects of their lives to be negatively impacted by work injuries.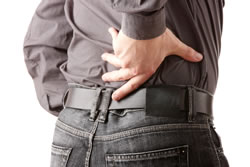 Whether your work injury was caused by an accident, repetitive motion, or overexertion, Buffalo Chiropractic Center can alleviate the debilitating effects. Dr. Palmer can get you out of pain and back to work using methods that countless research studies have demonstrated as effective and lasting.
The following work injuries are some of the most common that we treat in our Cheektowaga, chiropractic office:
Back and Neck Injury

Many of our New York patients come to us with dysfunction or pain in their spines caused by their jobs. Industrial workers often place significant strain and pressure on their spines, resulting in injuries that need treatment as soon as possible. But manual labor isn't the only culprit of worker back pain and neck pain. People who work in offices or in the service industry can also develop problems in their spines, as a result of overexertion, improper ergonomics, or poor posture. Dr. Palmer focuses on spinal health, getting to the root of your pain for long-term relief. Countless studies have highlighted the efficacy of spinal adjustments to relieve back and neck pain without the use of medications.
Carpal Tunnel Syndrome

If you are like the majority of American workers, you spend more time at work sitting at a desk using a computer than any other activity. Long hours of typing and mouse-clicking means that you frequently flex your wrist, and doing this repeatedly can result in pressure on the median nerve that runs through your wrist and forearm. After years of repetitive motion and nerve compression, workers can develop carpal tunnel syndrome. At Buffalo Chiropractic Center, we help our patients treat and prevent carpal tunnel syndrome.
Other Work Injuries
In addition, we have seen a multitude of other symptoms that our patients suffer due to their jobs. This includes cervicogenic headache and migraine, bursitis, tendinitis, rotator cuff tears, and numbness and tingling in the arms and legs. We have successfully treated all of these, and more, at Buffalo Chiropractic Center. If you're looking for effective relief after work injury or need help planning treatment for your workers' compensation claim, call us today and become another one of our success stories, at (716) 668-2225.