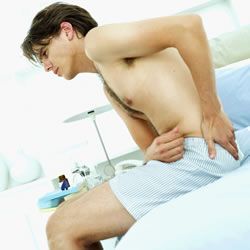 The longest nerve in the body is the sciatic nerve. When the nerve is inflamed or compressed, it causes pain, numbness and weakness in your legs. It may also cause tingling sensations starting from the low back and moving down the back your leg to the foot. If you've been to a medical doctor for treatment of your sciatica, you may have been told that you will receive conservative treatment.
The term "conservative treatment" implies that no harm could come from it. However, that implication may not be true.
Conservative treatment for sciatica may include any of these:
Pain medications that are non-steroidal anti-inflammatory drugs or opioids
Medications for anxiety or depression
Physical therapy
Epidural steroid injections to reduce inflammation of the sciatic nerve root
Hot packs / cold packs or heat / cold therapy of some sort
If the implication that no harm could come from conservative treatment for sciatica, you'd have to remove everything on the list except for hot/cold packs and physical therapy. Pain medications can and do cause thinning of the walls of the stomach that can cause internal hemorrhaging. Often patients don't know this is happening until they have lost a lot of blood.
Medications for anxiety or depression also have a long list of side effects with them. Interestingly, one of the signs and symptoms for sciatica is not anxiety or depression, so why are these prescribed? Certainly if a person has sciatica, the situation could create anxiety or depression but when someone addresses their thoughts properly, there is no anxiety or depression.
Epidural steroid injections may be successful at reducing inflammation but they also carry a risk of side effects. Steroids are known for their decrease of collagen in the area surrounding the injection, thus leaving the area weaker than prior to the injection. Collagen serves as 'padding' for the surrounding tissues.
The only true conservative treatment for sciatica is chiropractic care. Dr. Palmer, your Lancaster chiropractor, uses truly non-invasive, drug-free treatments in alleviating sciatic nerve pain. With chiropractic adjustments and exercise therapy, your sciatica will fade — without the costs and risks of surgery and drugs. So pick up your phone and give our Depew/ Lancaster office a call today!