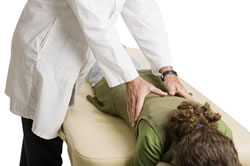 The natural treatments your chiropractor uses are ones that restore and stimulate wellness in your body. They are safe methods, ones that relieve pain, and involve no needles or prescription drugs.
Here's a list of some of those methods:
1. Manipulations of the spine by your chiropractor also called chiropractic adjustments
When a chiropractor knows exactly how joints work, how to manipulate them, and how to feed them, they achieve health quickly.
2. Specific exercises that improve muscle strength in weak muscles and improve stability and posture
When you have an injury, it's possible that muscle imbalances in your body may have predisposed you to the injury. For example, if you have a job where you must perform the same movement over and over again, the muscles used in that action become strained and overworked on that side. Your chiropractor is an expert at detecting these muscle imbalances – and then deciding which very specific exercises will balance the muscles.
3. Nutritional counseling to help you decrease inflammation:
Inflammation is good for the body in the beginning stages of healing. However, after that, it interferes with healing. By utilizing natural foods, supplements and herbs, chiropractors can give you ways to speed up your healing. With exciting new advancements on using diet to stimulate healing and wellness, your chiropractor is the expert that considers all angles of your health.
At your next appointment, ask your chiropractor about all the methods you can use to improve your health quickly!
Using these non-invasive, natural methods, Dr. Palmer has helped hundreds of patients in the Cheektowaga and Depew areas improve their overall health. Contact Buffalo Chiropractic Center to start feeling better today!