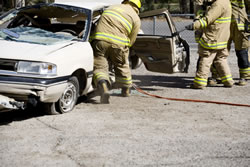 Whether you are hit in a parking lot or at a high speed, any car accident can result in injuries that negatively affect your quality of life. Common auto injuries such as whiplash, headache, and soft tissue injuries, can potentially cause chronic pain. Seeking chiropractic care for auto injuries can enable you to return to pain-free motion as quickly as possible.
Common Auto Injuries:
Whiplash
During the collision, your body is pushed back into the seat due to sudden deceleration. Your head remains stationary, stretching the ligaments and joints of your neck. This causes whiplash injury, which can result in stiffness and inflammation, neck pain, headaches, and dizziness. A wider range of symptoms, including sleep disturbances, difficulty concentrating, and fatigue, may result from severe whiplash.
If you experience neck pain after being involved in a car accident, visit a chiropractor as soon as possible. Untreated whiplash can result in chronic pain which can even linger for years. Dr. William Palmer sees many patients in the Depew, NY area with whiplash caused by an auto accident. Chiropractic treatments such as spinal adjustments and exercise rehabilitation can help to heal these neck injuries, alleviating your symptoms and preventing chronic injury.
Headache After Auto Injury
Many people walk away from a car accident with a headache, even if their head didn't hit anything during the crash. The fast pace of deceleration can often lead to a headache as a secondary symptom of whiplash or neck trauma. Most will disappear on their own in a couple of days. Others, however, become long-term head pain. If your headache persists more than two days after the accident, seek a chiropractor's assistance. Chiropractic care has been proven to be effective at treating a wide variety of headache types, from cervicogenic headaches (originating in the neck) to migraines.
Soft Tissue Injuries After a Car Accident
Soft tissue injuries are those affecting the muscles, ligaments, or tendons. Common types of soft tissue injuries sustained in a car accident include bruises, strained muscles, and sprained ligaments. If you experience joint pain or muscle aches following a car accident, Depew chiropractor Dr. William Palmer can help. Chiropractic treatments can prevent long-term symptoms and promote healing of these injured soft tissues, restoring your range of motion as quickly as possible.
Back Pain
Back pain after a car accident is typically the result of a sprain, strain, or tear affecting a spinal tendon, ligament, or muscle surrounding the spine. Back pain may also be a sign of subluxation, when the a spinal joint is pushed out of alignment during the blow of the auto accident. Middle-aged adults, older adults, and overweight individuals are also susceptible to disc herniation during a car accident, which may cause back pain and sciatica.
Chiropractic for Auto Injuries in Depew
See your Depew chiropractor if you have been involved in a car accident and are experiencing whiplash, headaches, back pain, soft tissue injuries, or other symptoms as a result. Chiropractic care can address many of these musculoskeletal concerns, restoring pain-free range of motion as quickly as possible and preventing chronic symptoms. Call Dr. William Palmer at Buffalo Chiropractic Center today to learn more about how chiropractic care can address your auto injury pain in Depew, Lancaster, Cheektowaga, West Seneca, and Elma, NY.