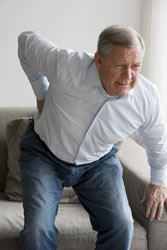 When you have sciatica, you'll have low back pain that may extend into your buttocks, and/or travel down the back of your leg. Sometimes the pain may be felt all the way into your foot.
One of the causes of sciatica is disc herniation, which should always be treated with chiropractic care. Bulging discs may be pressing or impinging the sciatic nerve, causing your present symptoms. If Depew chiropractor Dr. Palmer detects this is the case, he will use gentle chiropractic techniques applied to the lumbar spine to ease pressure on the irritated sciatic nerve and restore proper blood and nutrients to the affected spinal disc.
Another cause of sciatica is misalignment of the pelvis. You yourself can feel a misalignment of the pelvis if you pay attention to how your body feels when you walk. Does it feel as if one side of your pelvis is stuck while the other side moves freely? Do you always have sore muscles in your hip on one side of the body? If so, you may have a misalignment of the pelvis. A chiropractic adjustment may immediately give you relief of sciatica pain in this case.
Adjustments by a chiropractor are always important when a patient has sciatica. However, in many cases, therapy such as strengthening exercises and stretches are taught to the patient. The use of heat or ice is also quite common, and the application of one of them is dependent on each individual case.
Posture evaluation is also another important part of a chiropractor's treatment of sciatica. This is because imbalances of muscles may contribute to the prolonging of the sciatica symptoms.
Sciatica is a short-term condition that is often reversible with chiropractic treatments, such as thouse offered by your Depew chiropractor, Dr. Palmer. If you have sciatica and live in West Seneca, Elma, Depew, Cheektowaga, or Lancaster, NY, don't delay treatment any longer. Doing so could lead to chronic damage to the sciatic nerve. Contact Buffalo Chiropractic Center for relief from sciatica today!