Does sciatica occur in office workers? You bet it does! There are many reasons for sciatica nerve pain to occur on the job.

Here are a few of those reasons:
You're sitting on your wallet!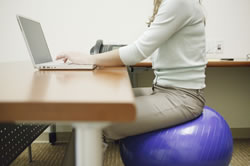 This is the most embarrassing reason for sciatica nerve pain, because it means it was something you did to cause it. Sitting on your wallet may seem innocuous, but it throws off your sitting posture and aggravates discs that are degenerating. The herniated discs may then compress the sciatic nerve. Another thing that sitting on your wallet does is firing up the internal back muscles – and these overworked muscles may trap the sciatic nerve and cause the sciatica nerve pain.
Your desk is not ergonomically designed.
This one is not your fault, but it's one you and your Depew chiropractor can talk about to overcome. Ask him how to know if your desk is ergonomically designed or not.
You have a herniated disc that's compressing your sciatic nerve.
Did you know that herniated discs can heal? Your Depew chiropractor can give you a list of at least 5 things to start doing now at home to lessen the pain and to begin the healing. Did you know that chiropractors have a few different 'tricks of the trade' that they use to 'suck' the disc back into the spinal canal? These methods, like chiropractic spinal adjustments, help to relieve sciatica nerve pain.
You have a piriformis back muscle that is squeezing and compressing your sciatic nerve.
One of the reasons for sciatica is the way your piriformis muscle developed when you were a child. If it grew in such a way where the sciatic nerve pierced the muscle, then contracting the muscle and keeping it contracted may end up giving you a case of sciatica nerve pain, that shooting pain that can travel all the way down your leg to the ankle!
One thing you should know is that every one of Dr. Palmer's sciatica patients say the same thing: "Why did I wait so long to schedule an appointment with Dr. Palmer?"
Make an appointment today. You'll feel better tomorrow.