Low back pain is a common condition in the US. A current study from the journal Spine sums up the scope of the problem:
"[Low back pain] accounts for 15 million physician visits per year and an estimated cost of $192 million in 1990. Low back problems are the second most common cause for office visits to primary care physicians, and back pain is the most common reason for office visits to orthopedic surgeons, neurosurgeons, and occupational medicine physicians. It ranks third among indications for surgery. The content of the care provided by these allopathic physicians consists of evaluation, reassurance, advice regarding activities, physical methods, medications, and surgery."
The goal of this study was to evaluate the effectiveness of muscle relaxant use in patients with acute low back pain. The authors prospectively collected data on 1,633 patients from a wide range of health care providers: primary care, chiropractic, orthopedic, and HMO patients.
The individual practitioners treated the study subjects as they would treat any other patient. Each subject was given the Roland-Morris survey to assess loss of function. The authors of the study then contacted the patients at 2, 4, 8, 12 and 24 weeks after the baseline interview to see if they were "completely better."
The patients taking muscle relaxants had higher Roland-Morris scores.
49% of the patients received muscle relaxants at some point during the study.
The researchers found that patients receiving muscle relaxants had a significantly longer recovery period than did those who did not receive the drugs: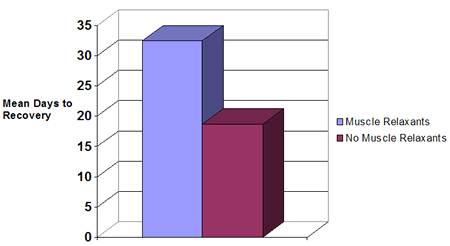 "[The findings] indicate that patients taking muscle relaxants, after controlling for baseline status, return to self-assessed ability to perform their daily activities more slowly than patients who do not take muscle relaxants."
The authors then wondered if perhaps the delayed recovery was due to an initially higher score on the Roland test. The authors then looked at just those patients with Roland scores higher than 12. The authors found that the high-scoring patients who were prescribed muscle relaxants took 19% longer to reach functional recovery than patients who were not given muscle relaxants.
An additional area of concern is the adverse affects that can be experienced with these medications:
"Muscle relaxants can be sedating, may increase fall risk, and impair the ability to drive automobiles or operate machinery. There is also some concern relating to possible risk of dependency for benzodiazepine medications."
The authors conclude:
"This large cohort study showed no evidence of benefit and even a delay in functional recovery for severely affected patients who take muscle relaxants in the setting of acute back pain."
Bernstein E, Carey TS, Garrett JM. The use of muscle relaxant medications in acute low back pain. Spine 2004;29(12):1346-1351.